Accessories that work in all scenarios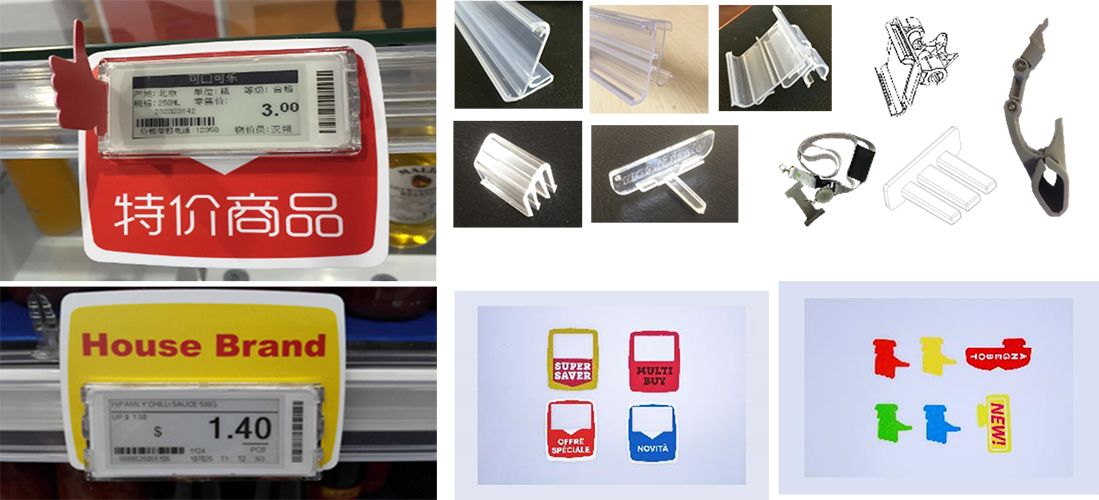 Whole series of ESL products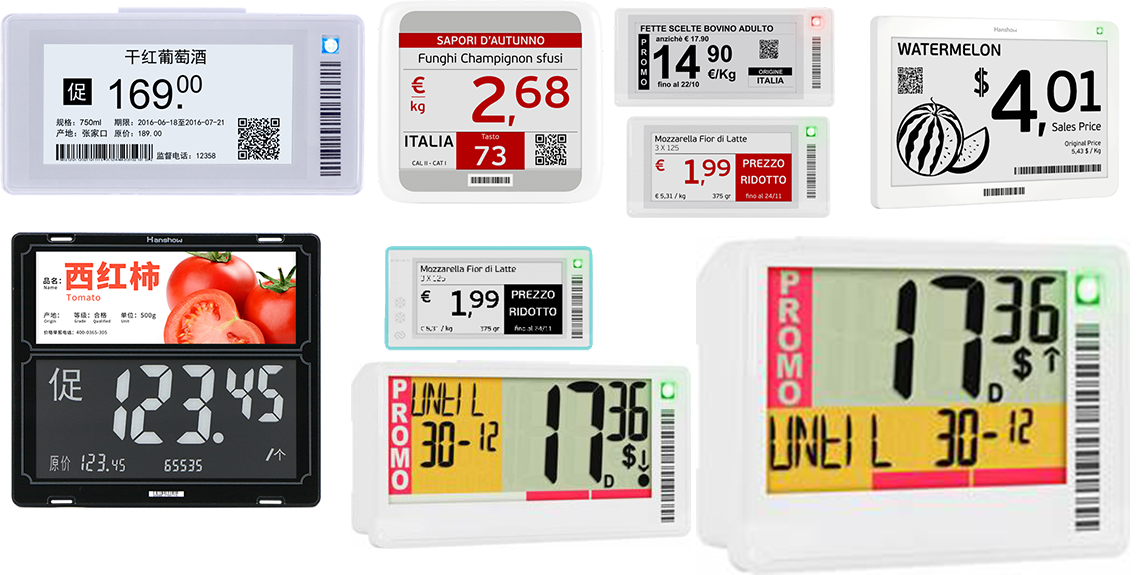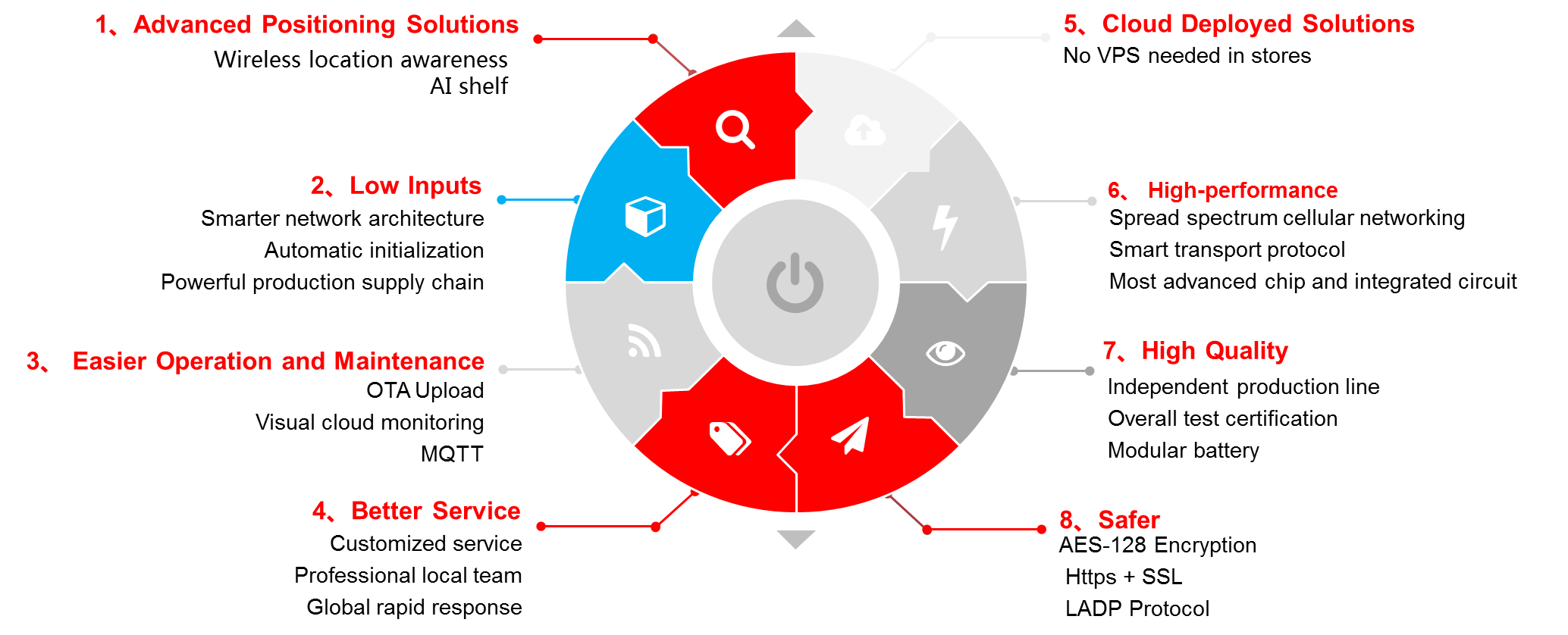 Intelligent Price Management
Scenario of application:
Capable of achieving auto price change via electronic price tag and auto price management, reducing your manpower, consumables and communication, and optimizing your management process.
Capable of flexibly and quickly launching offline marketing campaigns.
Value Analysis:
Process optimization, down by 60%
Lower the chance of price tag error
Reduce customer complaints caused by pricing error
Improve store image and increase customer volume
Launch more short-term promotions (weekend sale, time-limited promotion) of diversified forms, improve your sales volume
Save labor cost
Save consumable cost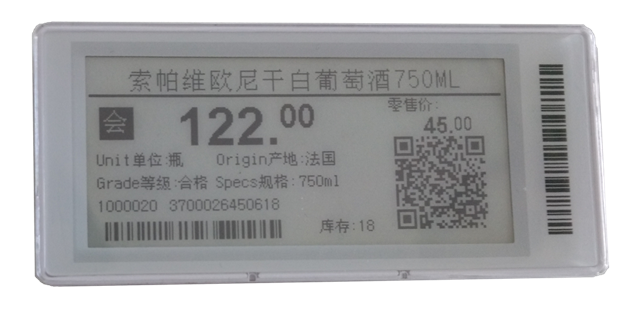 Display normal items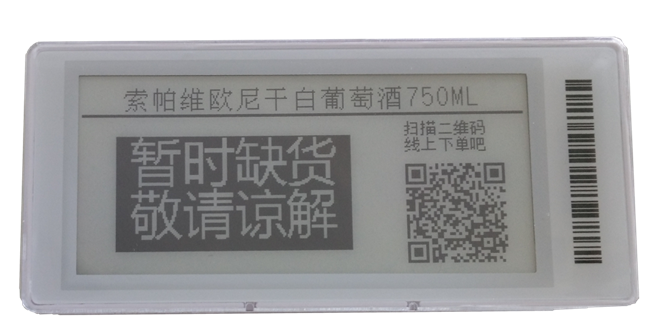 Display out-of-stock items
Show real-time inventory, display information as well as inventory status notification
Inventory Display:
Electronic price tag shows the position information of your displays and real-time inventory status (updated every 2 hours).
Replenishment Notification:
Electronic price tag system can switch price tag display template (out of stock, replenishment notification) or LED light alert in time based on your inventory status, help you make quick replenishing and ordering decisions.
Inventory Check:
Store managers can run inventory check and layout check using electronic price tag display, which is both straightforward and efficient.
Business Notification (LED light - Highlight Product Display)
For customers
Promotion, member, highly recommended items, promotion, member, new product, enhance the effect of promotion Flashing alert of your own product to help sell them
For internal management
Notification of exceptional items: Poor sales, about to expire, out of stock, about to be out of stock, banned, etc.
Note
Make proper plan in practical use to avoid them from flashing at the same time and causing any visual clutter and affecting customers in any way. Custom setup such as time-sharing, on-demand and so forth. For example, only point up items on sale (red), order-picking (blue) and display them in an alternate manner when both are found during business hours. You may emphasize display of internal management after closing down/before opening the store.
Application of QR Code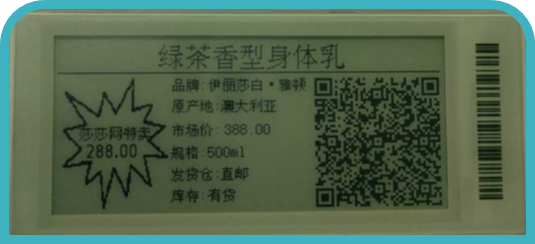 Interconnection of Online/Offline Items
The QR code in the price tag is often link to commodities, you may access its detailed information and selling points by turning to the APP.
Use QR code to achieve interconnection of online/offline commodities. Customers can browse detailed product information and tracing information by scanning the code.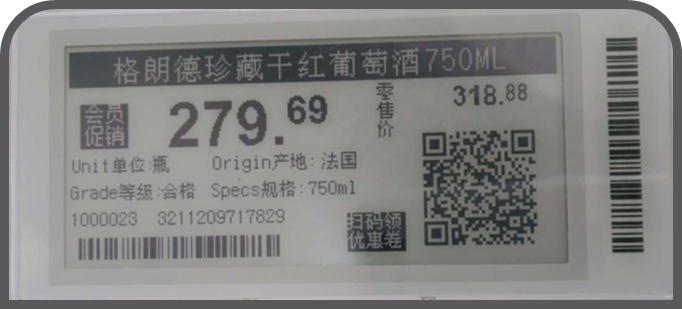 Promotion
The QR code in the price tag may turn into coupon QR code (a threshold may be set) in real time. Customers will automatically become a member after scanning the code, which can improve customers' enthusiasm to buy more. The code will restore normalcy once the threshold is reached.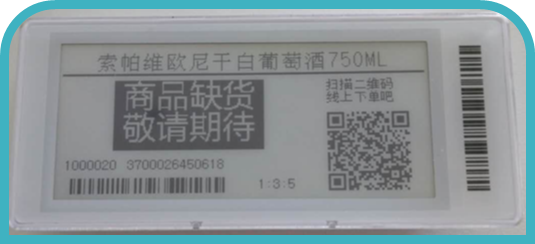 Online ordering by scanning a code
Out-of-stock item generates a QR code and users can place an order on APP by scanning the code, which can improve your user experience.